Band Biographies
Bob Mould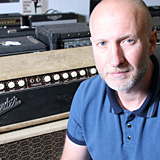 Bob Mould (b. 16 October 1960, Malone, New York) is an American musician, who attended Macalester College, and is principally known for his work as guitarist, vocalist and songwriter for influential 1980s punk rock band Hüsker Dü. After Hüsker Dü split at the end of the decade, Mould formed Sugar, in the early 1990s. He released two solo albums between Hüsker Dü and Sugar, Workbook and Black Sheets of Rain.
During the recording of his album The Last Dog And Pony Show, Mould recorded an experimental dance music-influenced instrumental, that eventually led to his forming a new side project, LoudBomb, a pseudonymn deriving from an anagram of his name.. He has released at least one CD so far under this name.
Mould took a brief break from the music world to get involved with another passion of his, professional wrestling, when he joined WCW as a scriptwriter for a brief period. Creative differences with some of the other writers of the league led to Mould leaving the company and returning to music. When he released the album Modulate in 2002, he thanked some of the wrestlers he associated with, most notably Kevin Nash and Kevin Sullivan, in the album's liner notes.
In addition to his solo work, Bob Mould is also a live DJ in collaboration with DC-area dance music artist Rich Morel, under the collective banner Blowoff. A recording under that banner is said to be in the works. Both LoudBomb and Blowoff have led to Mould being asked to do remixes for a variety of dance and alternative rock artists. A recent remix of the Interpol (band) song "Length Of Love" has led to more critical acclaim for the veteran artist.
Although he has been giving solo semi-acoustic performances (halfway through the set, he will switch to electric guitar) since his departure from WCW and prior to the release of Modulate, the impending release in 2005 of his solo album Body Of Song was cross-announced with his first band tour since 1998. Brendan Canty, best known as the drummer for Fugazi, and Mould's Blowoff collaborator Rich Morel, had been tapped at the time of this writing, to play drums and keyboards, respectively, for the tour, scheduled to start in the fall of 2005.
Adapted from from: http://en.wikipedia.org/wiki/Bob_Mould
Jason Narducy
Jason Narducy is a Chicago musician who is best known as former singer / songwriter / guitarist for Epic Recording artists Verbow. The band released two records, Chronicles (1997, produced by Bob Mould) and White Out (2000, produced by Brad Wood), and toured America incessantly with acts such as Bob Mould, Frank Black, Morrissey, Ben Folds Five, Counting Crows, Travis, Morphine, and Brad. Jason recorded a duet with Blue Note recording artist Patricia Barber which appears on her 1999 release, Companion. Liz Phair utilized Jason's vocal and bass playing talents for promotional performances in 2003. Jason's latest band is Rockets Over Sweden which released an EP, Penny Coliseum, in July 2004. rocketsoversweden.com
Richard Morel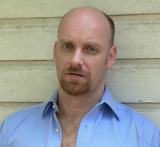 Morel is a high-profile fixture of the electronica underworld releasing the critically acclaimed records "Queen of the Highway" and most recently "Lucky Strike" on Yoshitoshi Records. In addition to fronting his own band, Morel is also partners with Bob Mould in Blowoff. Under the Pink Noise moniker, Morel has remixed many artists including, Depeche Mode, Pet Shop Boys, Seal and most recently "(Shine Your) Light Love Hope" off of Mould's "Body Of Song" Record. Morel's Pink Noise has had four number one remixes on Billboard's Club Play chart and he is presently remixing singles for The Killers' "All These Things That I've Done" and New Order's "Guilt is a Useless Emotion". morelworld.com
Brendan Canty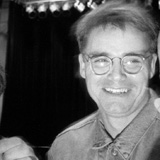 Brendan Canty (born March 9, 1966 in Teaneck, New Jersey) is best known as the drummer in the band Fugazi. Canty joined Fugazi in 1987, before which time he played with fellow Fugazi band member Guy Picciotto in Rites of Spring, One Last Wish, Deadline, Insurrection, and Happy Go Licky.
In between Fugazi tours, Canty frequently composes soundtrack music, primarily for Discovery Channel and The Learning Channel documentaries. He also contributes to or helps produce other DC-area recordings. During Fugazi's post-2002 hiatus, Canty took part in a side project, Garland Of Hours, with vocalist/cellist/keyboardist Amy Domingues and drummer/percussionist Jerry Busher, both of whom have contributed to Fugazi recordings and performances. Their first self-titled album was released on the Arrest Records label founded by Busher and Canty's younger brother James, formerly of Nation Of Ulysses.
In 2004, Canty co-founded the DVD label Trixie to release an ongoing series of music-related films entitled Burn To Shine. The series involves independent alternative music bands from a particular region showing up to perform one song live, without overdubs or corrections, in a house that is about to be demolished. The first volume was filmed in Canty's home region of Washington, D.C., and features performances from Bob Mould, Weird War, Q And Not U, Ted Leo, French Toast, The Medications, fellow Fugazi member Ian MacKaye's side project The Evens, and Garland Of Hours. A second volume, filmed in the Chicago area and featuring the bands Shellac and Wilco amongst other artists, is set for release later in 2005.
From: http://en.wikipedia.org/wiki/Brendan_Canty